Your Work Space: A Building Block of Company Culture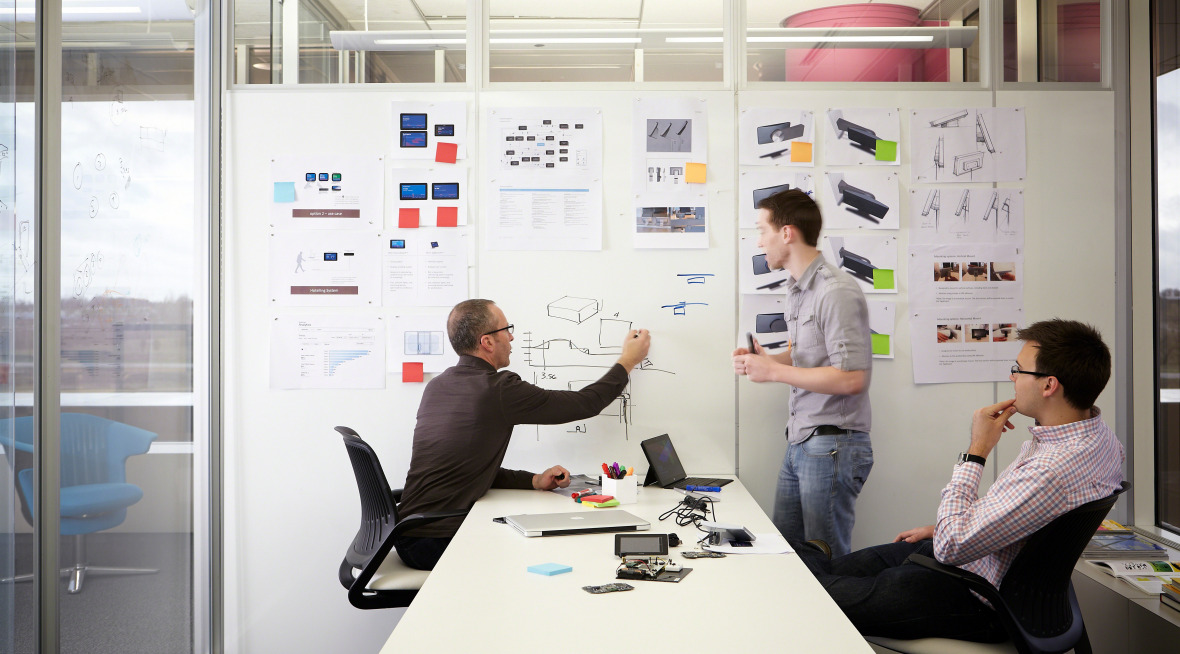 Your Work Space: A Building Block of Company Culture
We're at war. And all of us in leadership roles are in the line of fire.
The war on talent is here, and it's not going anywhere. Never has it been more important for our brands to attract the best people and keep the best people. Even though the idea of "company culture" has been around since the 1970s, only recently has it started to become a bigger priority for workers.
Here are some tips for building company culture, piece by piece:
Invest in your people—beyond traditional benefits
Aron Ain, CEO of Kronos—and famed for the culture he's created at this post—has found a direct link between engaged employees and better results. Better products. Better services. "Magical" results, as he calls them, happen when people are inspired and in turn bring their full selves to work.
To be named a Glassdoor Best Places to Work over consecutive years, Ain seriously invested in innovative ways to enhance his employees' experience—unlimited paid time off, student debt repayment help, expanded parental leave for moms and dads, financial assistance for adoption and childcare, and even college scholarships for kids of "Kronites," or his employees.
And in 2017, Kronos opened a new global headquarters in Massachusetts and renovated its offices globally to create workspaces befitting of the company and culture. It doesn't take a shiny new building, though – we have worked with many client partners to completely transform their current footprint with flexible furniture solutions that support current teams and possible future reconfigurations.
The health of any organization is dependent on the wellbeing of its employees, and a healthy workplace safeguards your most significant investment—your people. At Business Furniture, we are recommending height-adjustable desks as a standard—and are seeing more and more customers requesting height-adjustables in their space design, as height-adjustable desks are designed to support the wellbeing of workers and encourage a more health-conscious environment. Our partners at Steelcase have designed a height-adjustable solution, Ology, that not only changes posture, but reminds you when to do so!
Know your talent demographic
Ain believes that people are attracted to companies because of their brand. I echo this belief, and add that your space is a key reflection of your brand. We know that millennials—who by 2020 will make up half of America's workforce and by 2025, 75%—prefer to collaborate at work and demand access to the technology on which they grew up.
Think about it—during the hiring process, the first physical interaction you have with a candidate is in your space. Space has to support choice and control to attract and keep good people.
Business Furniture recently partnered with Spot, a logistics company located downtown Indianapolis, to create space reflective of their culture. With a largely millennial workforce, their transformation had to include elements this generation would find attractive—so they put in a two-lane bowling alley and fitness complex, in addition to widely open desking central to each floor, with focus booths and small to medium conference rooms around the perimeter. All of these rooms provide privacy with transparency, using glass wall systems.
Open your mind to different configurations
In a Q&A with Steelcase, Adam Grant, organizational psychologist, author and host of TED's WorkLife podcast, compares companies where there's a separate floor of private executive offices to being in a labyrinth—if you have an idea, how on earth do you get it to someone who can do something with it?
At Business Furniture and Choreo, we don't believe in a completely open office, either, which can be disruptive and uncomfortable for introverts, but rather a middle ground—a place that puts everyone in the same playing field while offering a mix of collaborative and quiet space.
Before moving into our current space in 2016, Choreo performed time utilization studies to assess how we worked in our old space. As a result, we incorporated a social hub, open benching workstations to support mobile and resident workers, focus booths, enclosed meeting spaces for 4-6 people, a large conference room, and training/large meeting space where our entire company can gather. And we used modular walls and pods to provide privacy with transparency.
Assemble your building blocks
At Business Furniture and Choreo, we talk about culture a lot—with prospective partners, valued customers, our internal teams. We share in the belief that culture is the product of people in space over time. Culture certainly isn't created overnight.
And culture isn't created in space alone—but you can certainly leverage your workplace as a building block for your company's culture. Ready to start building?
Mary Beth Oakes is the CEO of Business Furniture and Choreo, a Women Owned Business enterprise specializing in workplace research, strategy, and change management. With more than 25 years of experience in the commercial furniture industry, she is an expert in employee engagement and productivity, and is committed to helping clients across diverse organizations—education, government, healthcare, and workplace—in Indiana and Ohio succeed.