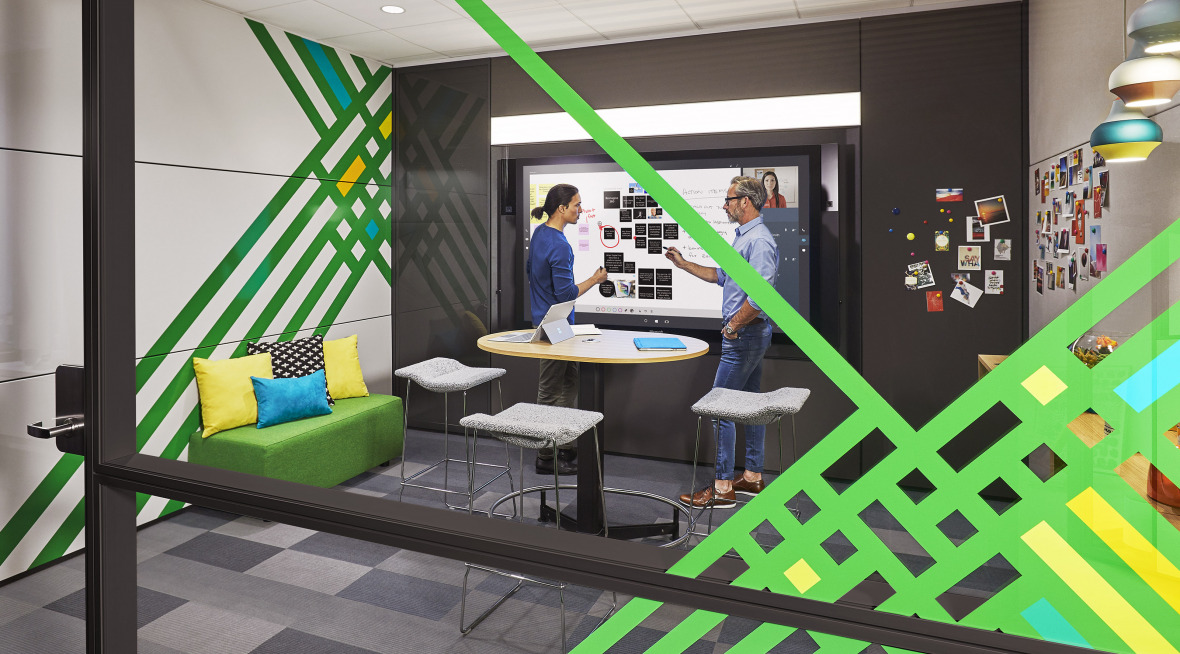 Generations at Work
Editor's note: This article was a major project by Business Furniture + Choreo summer intern Susannah Buhner, a sophomore in The Media School at Indiana University.
Millennials are expected to dominate the workforce in 2020—and many business leaders are bracing for a monumental shift. With a number of baby boomers retiring and an influx of Generation Z into the workforce, workplace culture is prime for change.
But what exactly are the implications of this perceived "generational divide" for business and culture? No doubt, each generation brings its differences to the workplace. While millennials and Gen Z'ers were raised with technology advancing beneath their fingertips, and may therefore be more social media savvy than their older colleagues, Gen X'ers and baby boomers have the experience and industry knowledge to help mentor and grow new generations of employees.
In this Q&A style interview, Gen Z intern Susannah Buhner had the opportunity to sit down with Gen X CEO Mary Beth Oakes and gain her insights on the generational divide. (Spoiler: it isn't as big as you might think!)
Susannah Buhner: How has a new generation (millennial's and Gen Z) affected workplace productivity?
Mary Beth Oakes: I see a constant separation between millennial's and other generations and I don't believe in that distinction. I see millennials just like any other employee from a different generation, they just grew up in a different world more focused on technology and gaining information more rapidly. Millennials want to do a good job and be productive, just like everyone else, except they tend to be more honest. The younger generations take interest in feedback on their performance and want validation from the work that they produce. For example, my generation isn't as consistent about asking for feedback which creates blurred lines around generation differences. In our company, productivity isn't really a factor. For Business Furniture and Choreo, it comes down to work standards, drive, tenacity, and personality characteristics that create productivity.
SB: As technology has grown and become an integral part of many businesses, in what ways have technological advances pushed your business?
MBO: In today's world, clients want everything faster, it's the "Amazon Effect." With the click of a button, I can have something at my doorstep in a matter of hours. It is the same principle when discussing social media. Clients can look at our social media accounts or website and learn everything about us without a true interaction or talking to us. Then, once we are working with the client, they have an expectation of things to go faster because they are used to "same-day delivery." This idea has challenged efficiency and even shifted our business focus.
SB: As social media and the importance of creating a brand has grown, how have you, and your companies, been challenged to expand and establish yourself online?
MBO: Research has shown that 70% of a customer's buying decision is made before stepping foot in our showroom, meaning that they are heavily influenced by our website and social media accounts. As a company, we always have to be sure that our message reflects our values online and that our strong focus on relationships is conveyed. Social media has expanded our range of clientele but also challenged us to be consistent in our brand. We are continually striving to create a "want for opportunity" in our community and within our field.
SB: Have you found that different generations value social media more than others? Do you see this as a positive or negative?
MBO: No, but I do believe that millennial's use websites to make decisions, look for reviews on products or places, and keep an eye out for specific social media cues. As a generation, they have always had technology in their hands and use it as a resource for information of all kinds. On the other hand, I see my generation utilizing Facebook for news, updates about others, and entertainment. In both cases, my generation and millennials use social media but there seems to be a generalization that millennials are too invested in these news outlets.
For example, my husband Dick, takes an interest in social media to keep track of where our industry is headed and to look out what our competitors are doing. Social media is an extremely valuable tool to stay connected in all aspects of life. I know at times that I can become too fixated on it but that is when it's time to take a break, shut it down, and revisit it later on. I see myself using social media for information and a good laugh more than anything else.
SB: In a recent study, it was found that 90 percent of Generation Z prefers to collaborate or have an added human element into their workday. Has this appreciation and increase in collaboration changed the culture of companies' workspaces?
MBO: For sure! In today's world, companies are finding value in bringing people together more than ever. I see collaboration as co-creation, something millennials and Gen Z'ers want in an office space. When a company has employees who connect on a daily basis, there is an influx in creating a good product for your client. Our clients are striving to increase collaboration spaces in their offices so people have more opportunities to work in conjunction with one another.
SB: What are a few main differences you see in the work ethic of millennials and Gen Z versus your generation for example?
MBO: In my experience, I have found that Gen Z and millennials are more inclined to say what they are thinking and be more open. I also see that flexibility has become a huge factor for these generations when deciding where to pursue a career. I see face to face collaboration has a vital aspect of working in our field, however, I also know having the flexibility to work where you do your best work is another key component.
Gen Z and millennials are similar to all other generations in that they want to be good at their job. I think there is an over-exaggerated gap when comparing generational differences, we are all people who have basic needs. Millennials and Gen Z have more courage to express their needs and as a CEO, I appreciate that articulation.
SB: Do you see a greater need to fail in order to learn? Meaning, have you found that millennials and Gen Z find value in learning from mistakes?
MBO: Be bold and create innovation—you can't learn if you don't make a mistake. All successful people experience failure and learn from their mistakes. If we didn't learn from our mistakes, we would be playing into the hands of insanity, doing the same thing over and over again yet expecting a different result. It is crucial to shift, change, improve in order to move forward and continue to grow. With our company being the size that it is, we have the power to 'turn the ship around' after making a mistake and rebound faster.
SB: Research has shown that millennials are the most diverse generation to enter the workforce. This fact has caused an influx in the value of diversity and inclusion. How have you, as a leader, tried to incorporate outreach into your company values?
MBO: In our company, we created a Giving Council to broaden our reach to employees in regards to our social corporate responsibility. We are trying to be more socially responsible, especially when making hiring decisions. As a whole, our company values diversity but we always want  to make sure our employees feel the same way. Whether it's creating a parental leave or doing small things to show we care, everyone in our office should feel equally valued. Outside of the office, we are trying to serve our community in working to reduce hunger and poverty, and improve human rights. People are able to do great things when they come together to serve!
SB: Compared to baby boomers, millennials and Gen Z'ers value purpose over a salary or monetary amount. Have you seen shifts in office culture with these dividing values?
MBO: I believe that all employees want to make a difference. All of our employees want to be there for their customers, something I see across all generations. When discussing shifts in office culture, Gen Z and millennials are more present in conversations about giving back, tending to be more mindful in fostering equality. There is a value in inclusion that all generations have, but millennials are willing to talk about it and provide feedback.
Mary Beth Oakes is the CEO of Business Furniture and Choreo, a Women Owned Business enterprise specializing in workplace research, strategy, and change management. With more than 25 years of experience in the commercial furniture industry, she is an expert in employee engagement and productivity, and is committed to helping clients across diverse organizations—education, government, healthcare, and workplace—in Indiana and Ohio succeed.